For updates on COVID-19, alerts, and important health information, click here.
Due to the surge in COVID cases and staffing shortages, La Clinica is providing limited services on site and via telehealth at this time. Our call volume is high at this time, we kindly ask, if you are returning a call regarding your appointment please call 202-462-4788, press 1, if there is no response, leave a message detailing your name, date of birth and phone number. Our team will call you back as soon as possible. We thank you for your patience and apologize for any inconvenience as we continue to protect our staff, patients, and community.
Building a healthy latino community for more than 35 years, through culturally appropriate health services
News and Stories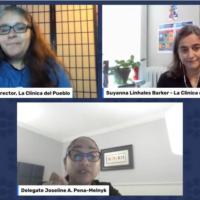 Advancing Health Access Solutions for Immigrants in Maryland
News and stories
Programs and Strategies
We develop and employ innovative, culturally competent and linguistically appropriate strategies to break down barriers to health and access to care in our community.
Programs and Strategies
Become a Patient
Welcome to la Clínica del Pueblo, a high-quality community health center where you are the most important member of our healthcare team.
Become a Patient
COME VISIT US
MARYLAND LOCATIONS
240-714-5247
2970 Belcrest Center Dr, 301 Hyattsville, MD 20782
Empodérate (202) 870-7474
(301) 985-1820. Ext 84657
7000 Adelphi Road Hyattsville, MD 20782
Partners